Though my cracked heart clutches at the night as it burns out.
Skyremix.org
is the reincarnation of my seven year old fanlisting collective once known as Cyber Soda. Cyber Soda existed as a subdomain on my main domain collective for the longest time, and it was hard for me to let it go. However, I found myself falling more and more in love with this name, loosely inspired from a Rentrer en Soi song. The domain name was purchased in July of 2012, though the website didn't go live until 2012 since it hadn't exactly been planned. I am an impulsive shopper, after all :)
Cyber Soda saw many fanlistings and let many of them go, and there are so many memories associated with it. I loved that website so much, but as my amount of fanlistings and interests grew, I felt I needed a change. I'm sad to see it go, but happy to see something else evolve from it. Here are a few of the layouts I made for Cyber Soda, for sentimental purposes.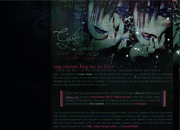 You can find more past versions of both Cyber Soda and Skyremix.org at my
layout archive.